Referrals
Please refer via the E-Referrals System. Specialty Cardiology, Clinic Type Heart Failure.
All referrals will be triaged by a consultant as to urgency.
For those areas currently covered by the Integrated Cardiology Service, please refer via ERS to this as for other cardiology referrals. Choose 'heart failure' in the 'clinic types' box. Further information available at http://occg.info/eRSCardiology
We do not recommend the use of the community echocardiography service for patients with suspected new heart failure. All new patients seen in the heart failure clinic will have an echo and ECG performed on the day.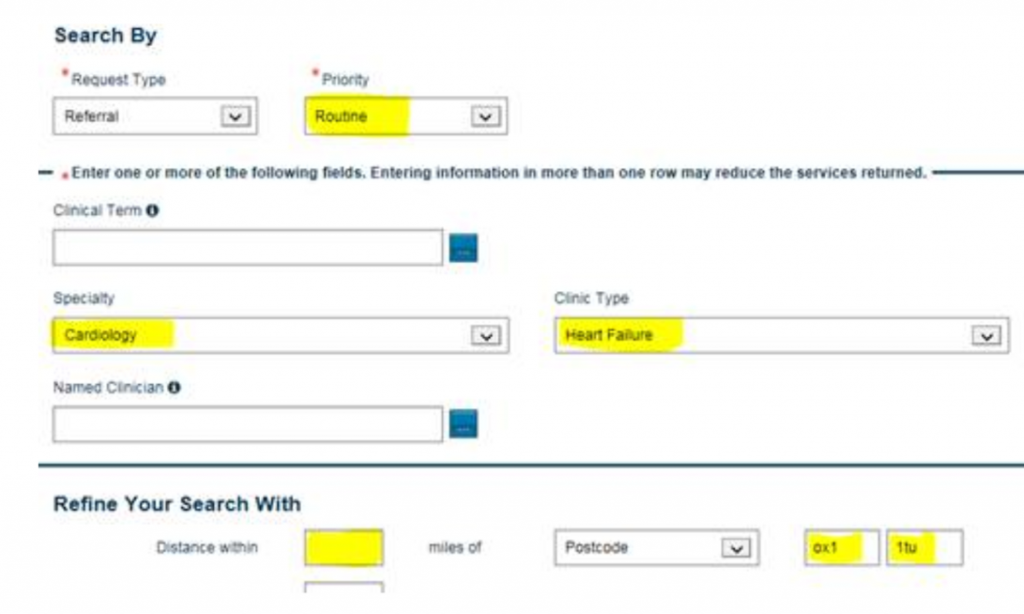 Outpatients services provided by the Oxford University Hospitals NHS Foundation trust
Consultant led heart failure clinics at the John Radcliffe Hospital and Horton Hospital. We see the bulk of urgent and routine outpatient referrals in these clinics with same day echo and ECG availability
Integrated Cardiology Service clinics. These run at several sites and are provided by GP Cardiologists. This service is currently available only to some areas of the county as of 2019.
Nurse led clinic at the JR & Horton Hospitals. The heart failure nurses run clinics at both sites. They see a variety of categories of patient including reviews following inpatient admission and medication reviews/titration in previously diagnosed patients
As per NICE guidance we aim that patients should be discharged back to GP care once all appropriate hospital therapies have been considered, and we do not follow most patients up over the long term.
The Community Nurses provide a variety of assessment and support services to patients with a confirmed diagnosis of heart failure. They currently hold clinics at:
Abingdon Community Hospital
Bicester Health Centre, Coker Close, Bicester
Orchard Health Centre, Banbury
Chipping Norton War Memorial Community Hospital
Didcot Community Hospital
Townlands Hospital, Henley-on-Thames
Gosford Hill Medical Centre, Kidlington
Witney Community Hospital
East Oxford Health Centre, Manzil Way, Oxford
Wallingford Community Hospital
The community heart failure nurses can accept direct referrals from general practice for patients with previously diagnosed LV systolic dysfunction (Currently defined by the community nursing team as left ventricular ejection fraction < 45%). They can be most easily reached by email: [email protected] . Full referral details can be found at this link.
The community heart failure nurses have limited capacity and do not routinely review stable patients once they have been established on a suitable medication regime.
Considerable numbers of patients with decompensated heart failure are now managed via the Ambulatory Assessment Unit at the JR and the Rowan Ambulatory Unit at the Horton. These are part of the General Medicine service – and referrals are via this route. The hospital heart failure team provide regular input to suitable patients. These units work closely with the AHAH (Acute Hospital At Home) team to manage outpatient intravenous diuretic treatment.
Most inpatients with heart failure at the JR and Horton are managed primarily by the general physicians. The hospital heart failure team aim to review all patients admitted with heart failure to clarify treatment, follow-up, etc.
More complex or unwell patients will be managed by the cardiology team in the Oxford Heart Centre. The heart failure service does not take direct referrals for heart failure admission from the community other than in exceptional circumstances (e.g complex patients already well known to us), and referrals for consideration of admission should be directed to the general medicine team.
Community Hospitals / Emergency Medicine Units
Patients with heart failure may be assessed and treated at these units in Abingdon, Witney and Henley, and there are some links with hospital services. However please note that these units do not have access to diagnostic tests and cannot make a formal diagnosis of heart failure. Hence patients seen and assessed in the EMUs should be referred on to the heart failure service.
Cardiac rehabilitation for heart failure patients
Cardiac rehabilitation has been shown to benefit patients with heart failure with a reduced ejection fraction. A specific programme is offered by OUH NHS FT for heart failure patients. GPs can refer directly to cardiac rehabilitation.
Further information and contact details can be found here.
Dr James Gamble – Consultant cardiologist with a specialist interest in heart failure. Additional interest in device implantation (pacemaker, ICD, CRT). Current clinical lead for heart failure. Further information.
Dr Chiara Cirillo – Consultant cardiologist with a specialist interest in heart failure. Additional interest in cardiac imaging.
Dr Shawn Morais – Consultant cardiologist with a specialist interest in heart failure. Additional interests in cardiac imaging and pacemaker implantation.
Prof Kazem Rahimi – Honorary Consultant Cardiologist. Associate Professor of Cardiovascular Medicine with research interests in the areas of clinical trials and health services research. Further information.
Dr Eleanor Wicks – Consultant Cardiologist and lead for Inherited Cardiac Conditions, sees patients with complex or inherited cardiomyopathy.
Helen Jackson – Consultant Nurse, responsible for most of the nurse led clinics at the John Radcliffe
Rebecca Bone, Helen Nolte – Advanced Nurse Practitioners
Gemma Clare, Naomi Spencer, Lucy Bennett- Specialist Nurse Practitioners